PCOS green smoothies can be the perfect vehicle for getting more fiber, vitamins, minerals and antioxidants into your diet to help decrease inflammation, reduce insulin resistance, improve fertility and reduce PCOS symptoms.
Oh, and they are delicious too. 😀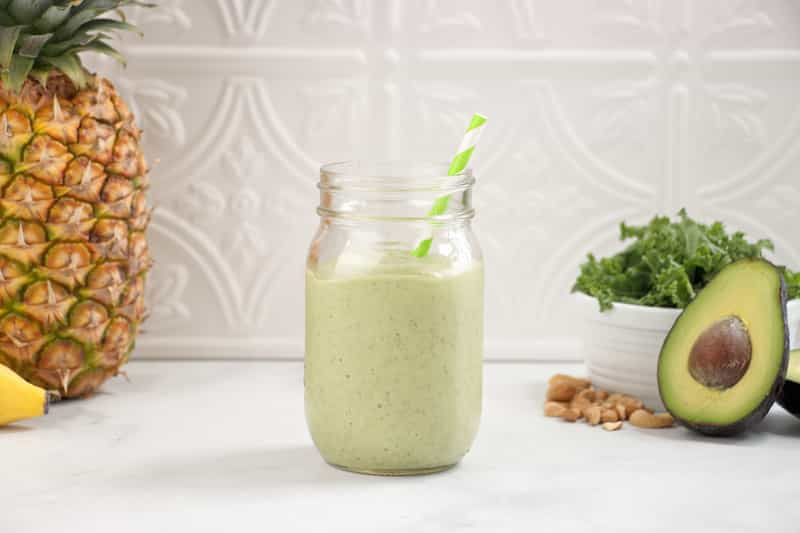 Nutrition and PCOS
While Polycystic Ovary Syndrome (PCOS) is the most common endocrine disorder in women of reproductive age, it is still a complex syndrome that is not completely understood by the medical community.
What we do know is that nutrition and lifestyle factors are the first line of treatment in treating the underlying drivers of PCOS symptoms.
One of the difficult aspects of managing a condition with nutrition, is figuring out HOW to actually get those key nutrients into the body. That is why a PCOS green smoothie can be the perfect addition to round out your PCOS meal plan.
If you want to dive deeper into the benefits of smoothies for PCOS, check out this post. Or if you're confused about what foods to eat when you have PCOS, check out this post. 
Benefits of Green Smoothies for PCOS:
A PCOS friendly green smoothie makes the perfect PCOS breakfast smoothie. You can easily meet your fruit, vegetable and fiber recommendations for the day with one of these.
That can honestly be a struggle some days, so you are not alone if you are looking for an easy PCOS friendly breakfast solution.
When a smoothie is made with a balance of fruit, veggies, protein, healthy fats and flavor boosters, you are getting in a variety of nutrients that support insulin sensitivity, reduce inflammation, help balance hormones and keep you full and satisfied.
Smoothies can also be a great solution when you don't have time to cook a balanced meal.
You can even "meal prep" all the ingredients into a container and freeze, so all you have to do is dump, add a liquid and blend.
The leafy green vegetables added to green smoothies are excellent sources of Vit A, Vit C, iron, magnesium, potassium, calcium, folate and Vit K.
Leafy greens are important in the PCOS diet as a source of folate. Folate is critical during pregnancy to prevent spine and brain defects. Research has shown that folic acid supplementation can improve the metabolic aspects of PCOS (2).
Avocados are also a great addition to PCOS green smoothies for extra fiber, healthy fats and antioxidants.
If you're pregnant, this pregnancy friendly green smoothie will help you get those extra nutrients in, even if you don't want to eat your veggies.
Key Ingredients for a PCOS Green Smoothie
With all PCOS friendly smoothie recipes, you want to make sure you are balancing the carbohydrates from the fruit with more fiber, healthy fats and protein. You should also take this opportunity to add in PCOS nutrition powerhouses. 
Leafy greens
I generally recommend my clients add in ½ cup to 1 cup of leafy greens or other veggies to their PCOS friendly smoothie.
Baby spinach or regular (fresh)
Frozen, chopped spinach
Kale (fresh or frozen)
Baby kale
Chard (has a stronger flavor)
Romaine
Other green veggies to add:
Frozen zucchini
Frozen or fresh avocado
Cucumbers
Low-glycemic fruits
I feel like fruit is really key in a green smoothie because no one wants their drink to taste like a salad. Or at least I don't.
I recommend choosing fruits with a bold flavor like mango, peach, berries, ect. A good rule of thumb is about ½ cup to 1 cup of fruit.
If you are curious about which fruits to eat when you have PCOS, check out this post.
Lower glycemic index fruits that are good in a smoothie include:
Banana
Blueberries
Strawberries
Raspberries
Blackberries
Cherries
Kiwi
Peach
Pear
Pineapple
Clementines (seedless)
However, be creative and try out whatever fruits you love. I've been thinking of a watermelon, cucumber and mint smoothie. 
Healthy fats
Healthy fats are important for creating balanced PCOS friendly meals. Fat helps with blood sugar control as it slows down the digestion of carbohydrates. Fat will also keep you full and satisfied after meals.
Anti-inflammatory fats like omega-3s from walnuts and flaxseeds and monounsaturated fats like peanuts and almonds, will help decrease inflammation. You also get the added bonus of protein and fiber!
I usually recommend between 1-2 tablespoons of healthy fats.
Try these in your smoothie:
Avocado- It makes your smoothie ultra creamy! It's great to add frozen into a smoothie.
Nut or seed butters like peanut butter, cashew, sunflower, almond, pumpkin seed, ect
Ground flaxseeds
Chia seeds
Hemp seeds
Protein source
Protein is critical for blood sugar management. I also find my clients have more success with weight loss with higher protein intake.
I recommend my clients aim for at least 20-30g protein per meal, this would include a smoothie when consuming as a meal.
You can choose animal and/or plant based proteins. Research is showing that fertility is improved with more plant based proteins in the diet.
Protein in your smoothie can come from a variety of sources:
Milk or higher protein non-dairy milk like soy, pea milk, fortified flax milk
Protein powder
Collagen powder (unflavored or flavored)
Yogurt (greek style will have more protein)
Cottage cheese
Nut or seed butters like classic PB, almond butter, cashew.
Ground flaxseeds
Chia seeds
Hemp seeds
Silken tofu
Plant based protein powders like pea protein, flax protein, pumpkin seed
Plant based, high protein milks like soy, pea and fortified flax
Non-dairy yogurts
Learn more about the best protein powders for PCOS here. 
Smoothie base
There are tons of different smoothie bases and liquids options for your PCOS green smoothie. The key will be to try to stay away from any with added sugar.
I don't generally recommend juice for PCOS, as it will spike blood sugar quickly because the fiber from the fruit has been removed. But if you really like a certain juice in the smoothie, make sure you have adequate protein and healthy fats in the smoothie.
I suggest starting with 1 cup of liquid and ½ cup to 1 cup of yogurt or cottage cheese.
Water
Iced green tea
Coconut water
Coffee or coffee concentrate
Milk
Non-dairy milk like almond, coconut, soy, cashew, oatmilk, hemp
Yogurt, regular or greek style, preferably plain, or unsweetened
Non-dairy yogurt, preferably plain, or unsweetened
Kefir (drinkable yogurt)
Cottage cheese (makes smoothies and chia puddings taste like cheesecake!)
PCOS Green Smoothie Boosts
This is where you can get creative and have fun with basic smoothie recipes.
A basic peanut butter, banana and yogurt smoothie can be elevated with flaxseed, cinnamon and cardamom!
Think of these nutrition boosts as a way to add more flavor, antioxidants and beneficial compounds to your diet.
Chia seeds
Cacao nibs
Matcha powder
Instant coffee powder
Unsweetened cocoa powder
Maple syrup ( as a natural sweetener)
Honey (as a natural sweetener)
Dates (my favorite sweetener as it adds fiber)
Ground flaxseeds
Hemp seeds
Cinnamon (use a sprinkle to 1 teaspoon)
Cardamon ( use a sprinkle to ¼ teaspoon)
Turmeric (use a sprinkle to ¼ teaspoon)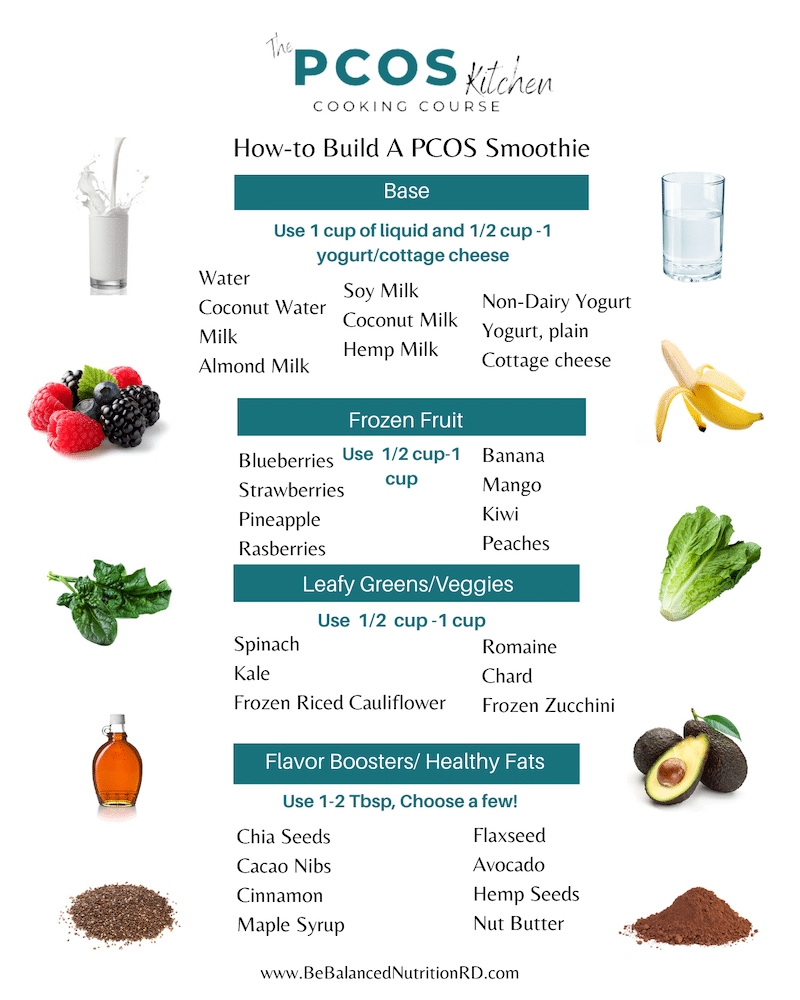 PCOS Green Smoothie Recipes
Tropical Green Smoothie (PCOS-friendly)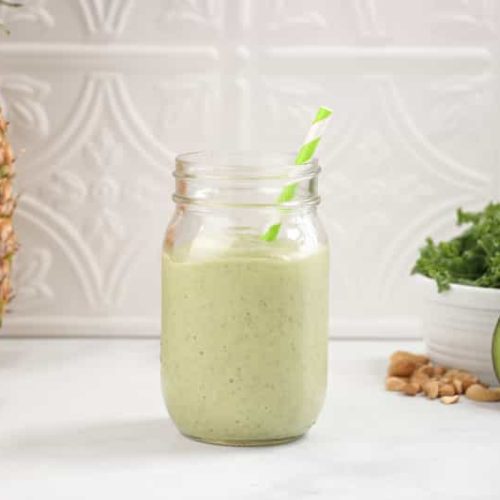 PCOS Green Smoothie- Tropical Green Smoothie
This sweet, refreshing smoothie makes the perfect green smoothie with a nutrient boost of kale. The avocado makes it extra creamy, add fiber and nutrition.
If you don't like avocado or kale, don't let that stop you from trying. The veggies blend in and the fruit really shines in this smoothie.
Ingredients
1/2

banana

fresh or frozen

1/2

cup

pineapple chunks

frozen

1/2

avocado

fresh or even frozen

1/2

cup

kale or spinach

frozen

1

tbsp

chia seeds

8

cashews

raw

2

scoops

collagen peptides

like Vital Proteins (20 grams protein per serving)

1

cup

almond milk, unsweetened

or choice of milk
Instructions
1. Slice banana. Cut up avocado.

2. Measure ingredients.

1. Place all ingredients into blender and blend until smooth.

2. Add water for a thinner consistency or ice for a thicker consistency.
Meal Prep
1. After prepping ingredients, measure and put all ingredients, expect almond milk, into a freezer safe bag or container.

2. When ready to make, dump ingredients into a blender, add almond milk and blend.

***You can increase the number of servings you prep so you can easily make a smoothie.
Nutrition
Serving:
1
g
Calories:
504
kcal
Carbohydrates:
46
g
Protein:
29
g
Fat:
27.6
g
Saturated Fat:
3.9
g
Fiber:
15
g
Sugar:
19
g
More PCOS friendly Green Smoothie Recipes:
Customizing Your Green Smoothie
If you are not a fan of leafy green veggies, try out baby spinach first. Start with ½ cup raw and increase to 1 cup (loosely packed) if you like it.
If you are trying to hide the fact that you are drinking a green smoothie, choose dark colored berries like blueberries to make a purple smoothie.
Nut butters like peanut butter have a strong flavor and really cover up with the taste of leafy greens.
Smoothies can easily be customized for individuals with allergies. Allergic to nuts? Add avocado or sunflower butter.
Plant-based? Choose silken tofu as a high protein base with non-dairy milk or water.
How to Incorporate Green Smoothies Into Your Routine
Green smoothies can be an easy meal or snack. Just be aware of the serving size when eating it as a snack and if you trying to lose weight. Most smoothies have enough calories, protein, fat and carbs to be a meal replacement.
Make sure to add your PCOS green smoothie into your weekly meal plan so you have all the ingredients you need.
Utilize a meal prep approach for smoothies

Measure all ingredients and put into a freezer bag or container, except liquid base. Then when you want to make a smoothie, just dump, add the liquid base and blend.
It's important for overall health, to include a variety of foods each day, so don't just rely on smoothies, but they are differently an easy way to get a balanced meal in. 
Utilizing frozen fruits and veggies in a smoothie help reduce waste and usually cost less.
Final thoughts…
PCOS green smoothies are a quick, easy and economical way of getting more nutrient dense food to help balance blood sugars, reduce inflammation and improve gut health.
Meal prepping smoothies can also help reduce the stress of figuring out what to eat when you are tight on time.
The key to a healthy PCOS meal or smoothie, is the combination of fiber + protein + healthy fats + complex carbs.
If you want to learn more about what to eat for PCOS or need guidance with a meal plan, check out these posts.