These healthy Pumpkin Buckwheat Muffins are not only delicious but PCOS-friendly, vegan and gluten-free.  They are a great option for brunch with friends as they fit into most dietary patterns.
Pumpkin muffins are good but these Pumpkin Buckwheat Muffins are the perfect addition to your fall baking rotation. Don't have a Fall baking rotation? I recommend you start with these. Then subscribe to my newsletter because fall baking is my jam. 🙂 (See below to subscribe)
The buckwheat flour adds a more complex flavor as well as a boost of nutrition. I also love these muffins because they include two PCOS superfoods-buckwheat and pumpkin which are natural sources of inositol. 
Inositol, specifically the combination of myo-inositol and d-chiro-inositol as a supplement, has been shown to reduce the risk of metabolic syndrome in individuals with PCOS (1) and improve IVF outcomes (2).
What You'll Need to Make It
Chia seeds (these little seeds are an excellent source of omega 3 fatty acids and fiber)
Buckwheat flour (buckwheat is a super nutritious whole grain that is high inositol and is naturally gluten free)
Brown rice flour (whole grain that provides phytochemicals, fiber, vitamins and minerals including magnesium)
Arrowroot starch (high in folate and a good source of iron)
Baking Powder
Salt
Canned Pumpkin (excellent source of Vit A and good source of fiber, both of which can improve metabolic health)
Coconut oil
Maple syrup
Vanilla extract
Coconut sugar
Cinnamon (cinnamon has been shown to help improve insulin sensitivity in PCOS 3)
Nutmeg (rich in antioxidants and is anti-inflammatory)
How to Make
Variations of Pumpkin Buckwheat Muffins
I love adding pumpkin seeds to the top of these muffins for an extra magnesium boost in my diet.
These pumpkin buckwheat muffins are also great with the addition of dried cranberries or cherries.
If you don't have buckwheat flour, you could substitute whole wheat flour but they will no longer be gluten free.
Try using frozen, pureed butternut squash or roasting your own pumpkin to use instead of canned pumpkin.
Instead of using maple syrup and coconut sugar, you can experiment with using honey or brown sugar. If you replace all the liquid sugar (i.e. maple syrup) with a granulated sugar (i.e. coconut sugar, brown sugar) you may need to add more liquid to the recipe.
If you prefer a sweeter muffin, I recommend increasing either the maple syrup or coconut sugar.
Other Ways to Use Canned Pumpkin
Stir into oatmeal
Add to baked goods
Add to chia puddings
Add to power bites
Add to curries
Add to chili
Stir into yogurt
How to Store and Reheat
You can freeze leftovers easily, so these healthy muffins are great for meal prep. For thawing, I recommend thawing at room temperature and then popping into the microwave for 10 seconds.
How to Serve
These muffins make a great breakfast or snack for PCOS. I recommend serving these muffins with some scrambled eggs, a cheese stick or drizzled with nut butter to add extra protein/fat at the meal or snack.
FAQs Regarding Buckwheat and PCOS
What can you use buckwheat flour for?
Buckwheat flour can be used in muffins, quick breads, cookies, crepes, noodles and bread. Don't substitute all the flour in your original recipe with buckwheat flour. Start by replacing 25% of regular or whole wheat flour with buckwheat flour. I suggest you first try a recipes created for buckwheat flour.
Is buckwheat flour gluten free?
Buckwheat is naturally gluten free. When the grain is milled it remains naturally gluten free as long as there is no contamination.
What does buckwheat flour taste like?
Buckwheat flour has a pleasant earthy and nutty taste.
Is buckwheat flour anti-inflammatory?
Buckwheat and buckwheat flour is anti-inflammatory. It is a nutrient dense whole grain which provides fiber, vitamins, minerals, fiber, anti-antioxidants and phytochemicals.
Is buckwheat good for PCOS?
Buckwheat is a great carbohydrate choice for PCOS. It is high in protein, fiber, vitamins, minerals, antioxidants and phytochemicals. These are all nutrients that will help improve PCOS symptoms and prevent chronic diseases.
Other Recipes You'll Love
If you need more PCOS friendly snack ideas, check out this post on 55 Snacks for PCOS (The Ultimate Guide)
Love smoothies? Check out this post on how to build a PCOS friendly and fertility fueling smoothie. My Avocado Berry Smoothie is one of my favorites!
*Disclosure: I only recommend products I would use myself and all opinions expressed here are our own. This post may contain affiliate links that at no additional cost to you, I may earn a small commission.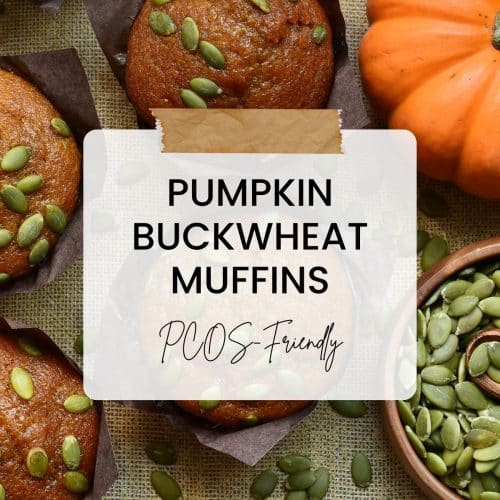 Pumpkin Buckwheat Muffins
These delicious muffins are super easy to make plus they are PCOS-friendly, vegan and gluten free!
Ingredients
2

tbsp

Chia seeds

6

tbsp

Water

Coconut oil spray

½

cup

Buckwheat flour

½

cup

Brown rice flour

½

cup

Arrow root starch

2

tsp

Baking soda

½

tsp

Salt

1

can

Pumpkin

(16oz)

¼

cup

Coconut oil

melted

⅓

cup

Maple syrup

2

tsp

Vanilla extract

3

tbsp

Coconut sugar

(or other unrefined sugar)

2

tsp

Cinnamon

½

tsp

Nutmeg
Instructions
Prep
1. Stir together chia seeds and water. Let stand for 15 minutes to gel.

2. Grease muffin tin with coconut oil spray.

3. Preheat oven to 350°F.
Make
1. In a large mixing bowl, whisk together flours, starch, cinnamon, nutmeg, baking soda, and salt.

2. In a small mixing bowl, whisk together pumpkin, oil, maple syrup and vanilla. Once chia has gelled, whisk into wet ingredients to combine.

3. Add wet to dry ingredients and stir to combine.

4. Add batter to muffin cups 3/4 full and sprinkle with sugar. Bake for 25 minutes or until muffins spring back when touched.

5. Remove from oven and let stand for 2 minutes. Remove muffins from tin and let cool on wire rack.

6. Freeze leftovers.
Notes
These muffins are less sweet than most so feel free to add a bit more maple syrup if desired. Be sure to use plain canned pumpkin, not pumpkin pie mix.
Nutrition
Serving:
1
g
Calories:
158
kcal
Carbohydrates:
26
g
Protein:
2
g
Fat:
5.7
g
Saturated Fat:
4
g
Sodium:
312
mg
Potassium:
182
mg
Fiber:
3
g
Sugar:
9
g
Calcium:
43
mg
Iron:
1
mg