Smoothies are a great way to add more fertility fueling foods into your diet.
The best part about this Avocado Berry Fertility Smoothie recipe is that it's not only delicious, but also super easy to make and it will nourish your body for pregnancy.
It's also super high in fiber, making it a great choice for individuals with PCOS to help control blood sugar levels and those wanting a great 💩.
What makes a smoothie a "fertility smoothie"?
Aren't all smoothies "healthy" and therefore should be good for fertility, right? Not necessarily. Have you seen the nutritional information for Tropical Smoothie?!
There are specific foods that can help improve fertility like fruits, veggies, full-fat dairy, nuts and seeds, so incorporating these foods into a smoothie really turns it into a powerful fertility food.
Most smoothie recipes are high in carbs but low in healthy fats, protein or fiber to help balance blood sugars. Maintaining balanced blood sugars is critical to improving fertility in PCOS. A fertility smoothie will have the right balance of carbs, healthy fats, protein and fiber.
How-to Build a Fertility Smoothie
This "formula" makes a perfectly balanced smoothie.
Choose liquid base (1-2 cups)

Water, coconut water, whole milk, almond milk, soy milk, coconut milk, hemp milk, whole milk yogurt, kefir or non-dairy yogurt.
Frozen fruit and/or veggie (½ cup -1 cup fruit and/or ½ cup -1 cup veggie)

Blueberries, strawberries, pineapple, mango, bananas, kiwi, frozen zucchini, frozen "riced" cauliflower)
Leafy greens (1 cup)

Spinach, kale, romaine, chard (Baby spinach has the most delicate flavor)
Healthy Fat and Flavor Boosters (1-2 Tablespoons)

Chia seeds, cacao nibs, cinnamon, maple syrup, flaxseed, avocado, hemp seeds, nut butters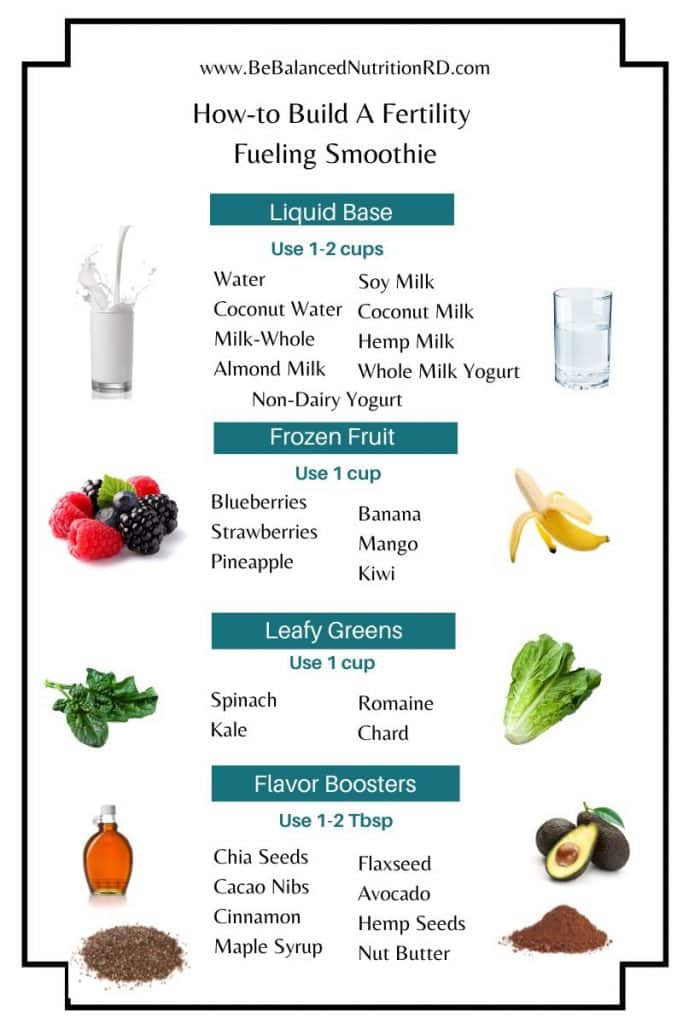 What you'll need to make the Avocado Berry Fertility Smoothie
Frozen zucchini, banana and berries (provides fiber, potassium, and antioxidants)
Avocado , fresh or frozen (provides vitamins, minerals, antioxidants, a source of healthy fat and fiber)
Almond butter (provides healthy fat, protein, Vit E, calcium, magnesium)
Baby spinach (provides folate, iron, Vit A, Vit C, potassium and fiber)
Almond milk (provides Vit E which is an important antioxidant)
Whole milk yogurt, unsweetened or non-dairy alternative, if desired (provides protein, calcium and consumption of whole milk dairy is linked to increased fertility 1 ).
How to make
Related recipes or variations
Check out my Be Balanced with PCOS Meal Plan and digital meal planner for even more smoothie recipes.
The variations you could make with this smoothie are endless.
Try cashew milk instead of almond milk.
Use peanut butter and frozen strawberries for a classic PB&J smoothie.
Don't like zucchini, try frozen cauliflower rice to boost fiber.
Need a chocolate fix? Add unsweetened cocoa powder.
FAQs
What fruit is best for fertility?
The best fruits for fertility are fruits high in antioxidants like red currants, all berries, oranges, pineapple, plums and pomegranate.
What can I drink to be more fertile?
Adding antioxidant rich smoothies to your diet with fruits, veggies, whole milk yogurt, and healthy fats can help improve fertility by improving your diet quality overall.
Do green smoothies help fertility?
Green smoothies can help improve fertility because they usually contain antioxidant rich veggies like spinach and avocado as well as other fertility boosting foods like fruits, nuts, seeds and whole milk dairy.
What berries help with fertility?
Berries can help improve fertility because they are a rich source of antioxidants and fiber. That is why I added them to my Avocado Berry Fertility Smoothie recipe!
Do smoothies make a good snack for improving fertility?
Yes, smoothies make a good snack, especially if you follow my "smoothie formula", because it's a great way to get a boost of fertility fueling foods into your daily eating pattern. Check out this post for more snack ideas.
Make ahead / storage
Smoothies can be made the night before and left in the refrigerator overnight. In the morning, just shake the container you stored the smoothie in to remix everything.
If you like to meal prep, portion all your smoothie ingredients (except the liquid) into individual containers, then freeze. In the morning, just pull the container out of the freezer, dump into the blender, add your liquid and blend.
Serving suggestions
This smoothie makes a great PCOS friendly breakfast or snack.
Other recipes you'll love
If you need more PCOS or fertility snack ideas, check out my post on the 55 Healthy Snacks for PCOS [The Ultimate Guide]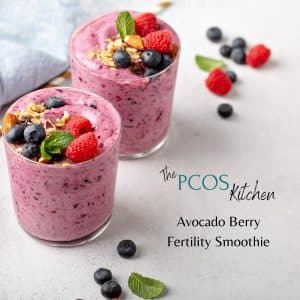 Avocado Berry Fertility Smoothie
This sweet, creamy and high fiber smoothie is the perfect way to add more fertility fueling foods into your diet.
Don't like avocado? Still give this recipe a try because you can't taste the avocado in the smoothie at all. It provides a really creamy texture and tons of nutrition!
Ingredients
½

cup

zucchini

chopped and frozen

½

banana

frozen

½

cup

berries

frozen

¼

avocado

1

tbsp

almond butter

(or alternate nut butter)

1

cup

spinach

1

cup

almond milk

(or alternate milk)

½

cup

whole milk yogurt, plain
Instructions
1. Add all ingredients to blender and process until creamy.

2. If more sweetness is desired, feel free to add sweetener of choice to

taste.
Notes
You don't have to use frozen zucchini or bananas but it helps make the smoothie creamy.
If you need more sweetness try adding some maple syrup or honey.
Nutrition
Calories:
398
kcal
Carbohydrates:
40
g
Protein:
12
g
Fat:
24
g
Saturated Fat:
4
g
Polyunsaturated Fat:
5
g
Monounsaturated Fat:
13
g
Cholesterol:
16
mg
Sodium:
416
mg
Potassium:
1136
mg
Fiber:
11
g
Sugar:
22
g
Vitamin A:
3205
IU
Vitamin C:
32
mg
Calcium:
559
mg
Iron:
2
mg