Do you need help figuring out what to eat for PCOS or what to buy at the grocery store?
In this article I'll share a PCOS Grocery List as well as a list of pantry and freezer staples that will make planning and preparing quick PCOS meals even easier.
Remember, this is not a totally exhaustive list of foods to eat for PCOS but it gives you an idea of categories of foods to include. Make sure you are creating your PCOS shopping list with your cultural and religious food preferences.
If you're looking for a FREE PCOS Meal Plan and Grocery list that is already done for you, check out this article. Or if you are struggling to figure out what kind of snacks to add to your grocery list, check out this article on PCOS snack ideas.
Grab the PCOS Kitchen & Pantry Essentials Ebook! Your guide to figuring out how to stock your kitchen to make quick and easy PCOS friendly meals.
The Impact of Food on PCOS
It's crucial to understand that food isn't your enemy when you have PCOS. In fact, it can be your best friend when it comes to balancing hormones, controlling insulin, and alleviating symptoms.
I'm always telling my PCOS nutrition coaching clients that there is no "bad" food for PCOS but rather foods that you should be adding to your diet and then ones that you should be mindful of when eating.
The goal of a PCOS diet is to address the root causes of PCOS symptoms including insulin resistance, inflammation, and gut health. But it also needs to reduce stress in your life and allow you to enjoy food again. Win-win!
If you're interested in learning more about the PCOS diet, check out this article on PCOS Food List from a PCOS Dietitian.
Building Your PCOS-Friendly Grocery List
Creating a PCOS-friendly grocery list is simpler than it seems. Here's how to do it step by step:
Know Your Preferences: Identify your favorite foods so you can include in your weekly plan and what doesn't work for you.
Weekly Meal Planning: Plan your meals and list the ingredients.
Organize Efficiently: Group items by categories like "Proteins," "Carbs," "Fats," and "Veggies."
Include PCOS-Friendly Foods: Start adding foods that can significantly improve your PCOS symptoms like colorful fruits and veggies, flaxseed, fatty fish.
Embrace technology and order your groceries online then utilize your time saved by prepping a few meals for the week.
PCOS Grocery List
PCOS Protein Choices
Proteins play a crucial role in PCOS management. It helps manage blood sugar levels, keeps you full and satisfied and provides essential amino acids to build muscle (hello, increased metabolism!), makes hormones and helps maintain the immune system. (1)
Consider adding:
Skinless poultry like chicken or turkey, ground meat, breasts or thighs
Lean cuts of beef or pork
Fatty fish, especially salmon, and seafood
Plant-based options like tofu, tempeh, and legumes
Canned tuna or salmon
Eggs (whole eggs and liquid whites)
Nuts and seeds like chia, hemp, walnuts, pumpkin seeds
Yogurt, greek or regular, full-fat or low-fat or non-dairy alternative
Cottage cheese
Cheese (slices, blocks, portioned snacks, ect)
Milk or non-dairy alternative, (I like FairLife Milk with added DHA because of its protein content and extra omega-3s)
Beans and lentils, either dried or canned
Collagen power or protein powder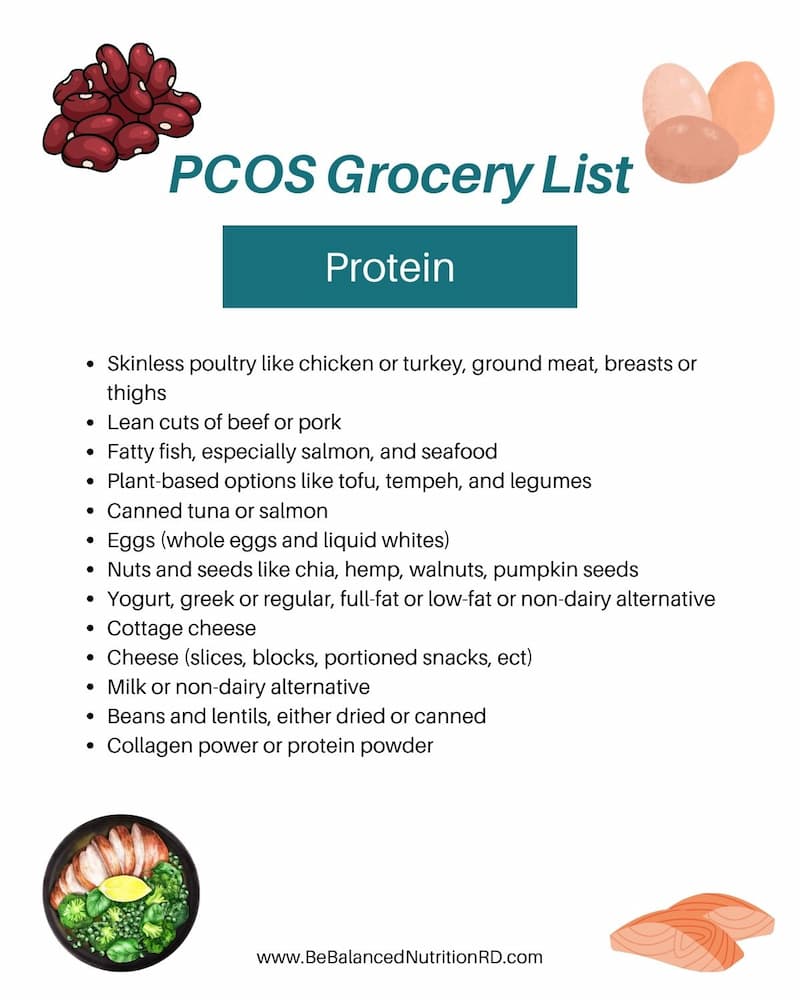 PCOS Carbohydrate Choices
No matter what influencers say, carbs don't have to be complicated when you have PCOS.
Opt for complex carbs that are minimally processed with fiber, such as:
Whole grains like oats, barley, quinoa, wild rice, wheat berries, farro,
Legumes like lentils, chickpeas, peas, soy beans, lima beans
Sprouted grain breads or sourdough bread
Whole grain or legume based pasta, bread or wraps
Sweet potatoes or red potatoes (or any color potato!), preferably with the skin on
Winter squash like pumpkin, butternut squash, acorn squash, spaghetti squash
Beans like black beans, pinto, kidney beans or great northern beans (any bean!)
Non-starchy veggies like bell peppers, tomatoes, cucumbers, leafy greens, summer squash, eggplant, green beans, carrots, ect
Fruits like apples, pears, oranges, kiwi, berries, peaches, bananas, mangos, ect (All fruit is good!)
Healthy Fats for PCOS
Healthy fats can be your PCOS ally, aiding in hormone production, keeping you full and satisfied, helping you absorb key fat-soluble nutrients and making food taste delicious.
Think about adding these to your grocery list:
Avocado
Nuts and nut butters (like almonds, walnuts, pistachios, peanuts, pecans)
Seeds (flaxseeds, chia seeds, hemp seeds, pumpkin seeds, sesame seeds, tahini)
Olive oil
Avocado oil
Walnut oil
Shredded coconut
Grass-fed butter
Sesame oil
The Fiber Factor
I can't say enough about fiber for PCOS. Which is why it gets its once section. Fiber is essential for digestion and improving gut microbiome in PCOS, blood sugar control, and keeping you full.
These high fiber foods are also full of antioxidants and phytochemicals to help fight inflammation, a key driver of PCOS symptoms.
Load up on high-fiber foods, including:
Berries (blueberries and raspberries)
Pears and apples
Leafy greens (spinach and kale)
Beans and lentils
Whole-grains like barley, farro, corn, wheat berries, whole wheat breads
Whole grain or legume based pasta, crackers or chips
Onions, shallots
Artichokes
Hummus
Avocado or guacamole
Nuts like walnuts, almonds, pecans
Seeds like chia seeds, flax seeds, hemp seeds, pumpkin seeds
Anti-Inflammatory PCOS Foods
Just like the fiber section, these anti-inflammatory PCOS foods are already listed, but it's important to mention them again.
Herbs and spices are an important component to both cooking and nutrition. They make boring vegetables like cauliflower taste amazing. And provide an extra boost of vitamins, minerals and antioxidants.
Combat inflammation with these tasty additions:
Turmeric
Ginger
Rosemary
Thyme
Cinnamon
Cardamom
Black pepper
Green tea
Fatty fish (rich in omega-3s)
Nuts and seeds
Colorful fruits and veggies like leafy greens, blueberries, bell peppers, oranges.
PCOS Fun Foods
If you restrict yourself all the time, you are just going to end up craving or binging on those foods.
It's important to incorporate foods that bring a little fun into meal time, so it can become a satisfying experience. I don't know anyone that is excited to rush home and eat plain chicken, steamed broccoli and brown rice.
Sweet treats
Dark chocolate (chips or portions bars)
Frozen Yogurt bars
Frozen chocolate covered fruits like Trufru
Chocolate covered nuts
Chocolate hummus with strawberries
A healthy diet for PCOS is not about taking away everything you enjoy. But instead, the key is to learn to balance meals and add foods that will help improve your PCOS symptoms.
PCOS Pantry Staples
A well stocked pantry is essential to getting healthy meals on the table easily. Here are some PCOS pantry staples that I recommend keeping on hand.
This is a pretty detailed list, so you don't have to have everything. Just pick a few items for each category to keep on hand.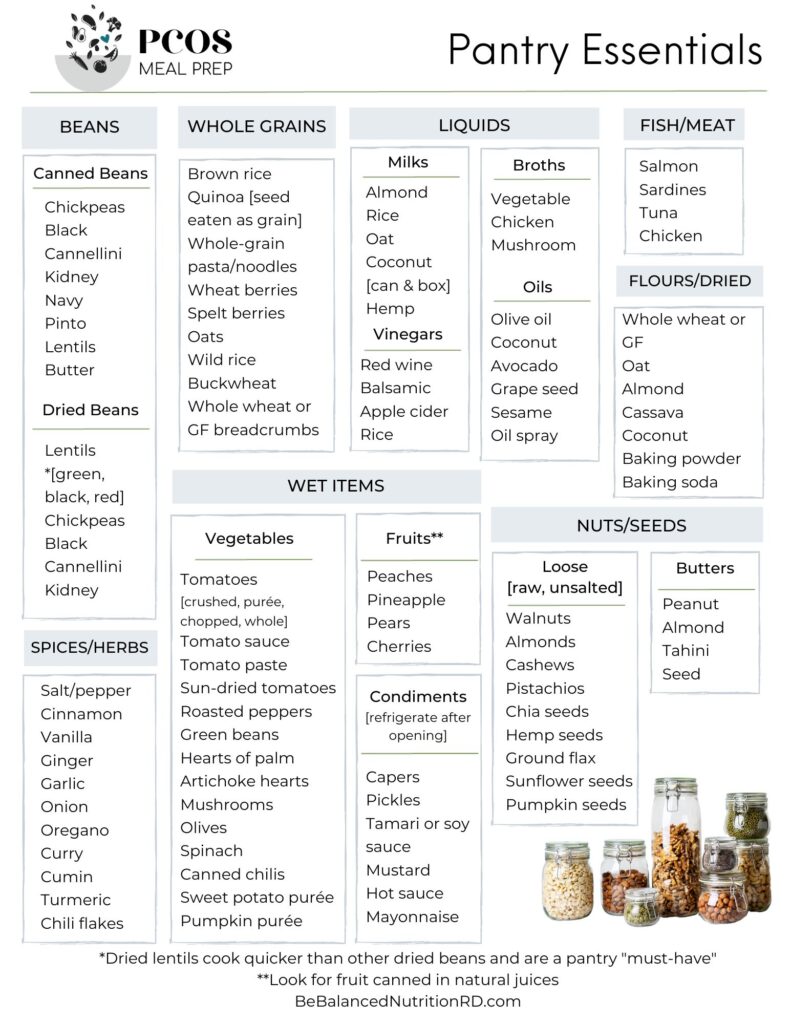 Whole Grains
Brown rice
Quinoa
Whole grain pasta/noodles
Lentil based pasta
Wheat berries
Spelt berries
Oats
Wild rice
Buckwheat
Whole wheat breadcrumbs
Beans
Canned Beans
Chickpeas
Cannellini
Kidney Navy
Pinto
Lentils
Butter beans
Dried Beans
Lentils (green, black, red)
Chickpeas
Black beans
Cannellini
Kidney
Spices/Herbs
Salt/Pepper
Cinnamon
Vanilla
Ginger
Garlic
Onions
Oregano
Curry
Cumin
Turmeric
Chili flakes
Oils/Vinegars
Olive oil
Coconut oil
Avocado
Grape seed
Sesame
Oil spray
Red wine vinegar
Balsamic vinegar
Apple cider vinegar
Rice vinegar
Vegetables
Tomatoes (crushed, puree, chopped, whole)
Tomato sauce
Tomato paste
Sun-dried tomatoes
Jarred roasted red peppers
Green beans
Hearts of palm
Artichokes
Mushrooms
Olives
Spinach
Canned chilies
Sweet potato puree
Pumpkin puree
Fruits
*Look for fruits canned in juice and not syrup.
Unsweetened apple sauce
Peaches
Pineapple
Pears
Cherries
Condiments
*Refrigerate after opening
Capers
Pickles
Tamari or soy sauce
Mustard
Hot sauce
Mayonnaise
Low sugar BBQ sauce
Nuts/Seeds
Walnuts
Almonds
Cashews
Pistachios
Hemp seeds
Ground flax seeds
Sunflower seeds
Pumpkin seeds
Peanut butter
Almond butter
Tahini
Fish/Meat
Salmon
Sardines
Tuna
Chicken
Milks
Almond milk
Oat milk
Coconut milk- boxed or canned
Hemp milk
Other nut milks like cashew milk
Broths
Vegetable
Chicken
Mushroom
Flour/Baking
Whole wheat flour, regular and pastry flour
Oat flour
Almond flour
Cassava flour
Coconut flour
Baking powder
Baking soda
Chocolate chips, regular or low sugar
PCOS Freezer Staples
The freezer is your best friend when it comes to making quick meals. Try keeping a few of these items available.
Premade, portioned frozen meals
Frozen fruit and berries for smoothies, chia pudding, yogurt, jam, sauces
Frozen fish, shrimp, shellfish, salmon burgers
Frozen veggie burgers (homemade or commercially prepared)
Frozen veggies like spinach, corn, peas, bell peppers, edamame, onions, puréed butternut squash.
Frozen whole grains like brown rice, farro, barley
Frozen cauliflower rice, cauliflower gnocchi or cauliflower tater tots
Frozen tortellini or ravioli, whole wheat preferably
Frozen burritos, preferably with minimally processed ingredients or homemade.
Frozen pizza, preferably with minimally processed ingredients. (Because we are all going to want pizza every now and then. You might as well be prepared with it. Add a bagged salad kit with rotisserie chicken or canned beans to round out the meal)
Final thoughts…
Sometimes it can be overwhelming when you have PCOS to figure out what to eat and then what to buy.
I hope this article on a PCOS-friendly grocery list gave you some inspiration in the kitchen and reduced the stress around grocery shopping.
Armed with these tips, tricks, and a PCOS-friendly grocery list, you're ready to take control of your symptoms deliciously.
Ready to take action?